Winter Solstice 2016
December 20, 2016 @ 7:00 pm

-

9:00 pm
You are invited to attend Sophia Sanctuary's Winter Solstice ritual coming up on Tuesday, December 20th at the Eugene Garden Club at 1645 High Street.  This is an all-inclusive event, so feel free to bring your friends and family, men included!  We will gather at 7pm, and the ritual will begin at 7:30.  We will be having potluck-style snacks after the ritual, so feel free to bring finger foods to share.  Carpooling may make parking easier.
The Winter Solstice is magickal time of year.  It provides us with a yearly opportunity for many things – slowing down, basking in the warmth of our loved ones, turning inward, learning to appreciate the dark, and having faith that the sun will shine once again.  Half of the year is filled with light so on this night, the longest night of the year, we deeply honor the dark before celebrating the return of the light.  We hope you will join us.
Yuletide blessings!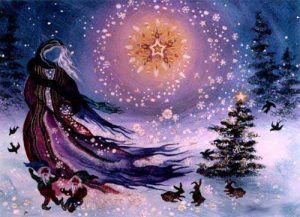 The views expressed at any of these listed events do not necessarily represent the view of Sophia Sanctuary, the Matrix, or the members of this site. We provide listings for outside events of interest to womyn in the local area for information only. Members may submit events via the contact form on this site, but we do not guarantee that they will be listed on our events calendar. If you submit an event to us, please do so at least 2 weeks before the event start date. Thank you.