Stirring The Cauldrons: A Movement Workshop with Laura Tempest Zakroff (featuring live music by Nathaniel Johnstone)
February 10, 2019 @ 10:30 am

-

12:00 pm

$30 – $35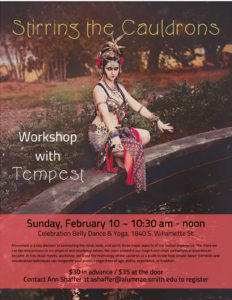 Stirring the Cauldrons:
Sunday, Feb. 10
10:30 am – 12 pm
Celebration Belly Dance & Yoga – 1840 S. Willamette
Facebook event: https://www.facebook.com/events/2228648224076268/
Cost: $30 in advance, $35 at the door
To register: pay by cash, check, or Paypal to Ann Shaffer at ashaffer@alumnae.smith.edu
About this workshop:
Movement is a key element to connecting the mind, body, and spirit: three major aspects of our human experience. The more we can become present in our physical and emotional selves, the more powerful our magick and other metaphysical experiences become. In this ritual-meets-workshop, we'll use the mythology of the cauldron as a guide to see how simple dance elements and visualization techniques can invigorate your practice regardless of age, ability, experience, or tradition.
This workshop is suitable for all levels of dance/movement experience.
About the instructor:
Laura Tempest Zakroff can be described by many different labels: artist, author, blogger, dancer, designer, muse, teacher, Witch – to name a few. Coming from a long line of diverging cultures, she is most at ease in blending her skills and inspirations throughout all of her work. As Tempest, she has been a major pioneer of fusion bellydance for over 18 years. Her compellingly artful performances exemplify her distinctively theatrical, unique, and expressive style that are rooted in oriental dance technique with a transcendent approach. Tempest's fascination with sacred and ritual dance lead her to bellydance, and she strives to help others connect mind, body, and spirit through movement. She blogs at Patheos as A Modern Traditional Witch, and has authored 4 books on modern witchcraft: The Witch's Cauldron (2017), Sigil Witchery (2018), The Witch's Altar (2018, co-authored with Jason Mankey), and Weave the Liminal (2019).
Tempest can be found online at:
http://darklydramatic.com
http://lauratempestzakroff.com/
Want to catch Tempest in performance? She will the featured dancer at the Middle Eastern Dance Guild of Eugene monthly show on Saturday, Feb. 9, at 7 pm at Whirled Pies (8th & Charnelton). $7 admission, children 10 + under free.
The views expressed at any of these listed events do not necessarily represent the view of Sophia Sanctuary, the Matrix, or the members of this site. We provide listings for outside events of interest to womyn in the local area for information only. Members may submit events via the contact form on this site, but we do not guarantee that they will be listed on our events calendar. If you submit an event to us, please do so at least 2 weeks before the event start date. Thank you.