Sophia Sanctuary's International Women's Day Celebration 2018
March 10 @ 9:30 am

-

5:00 pm

$13 - $113
Event Navigation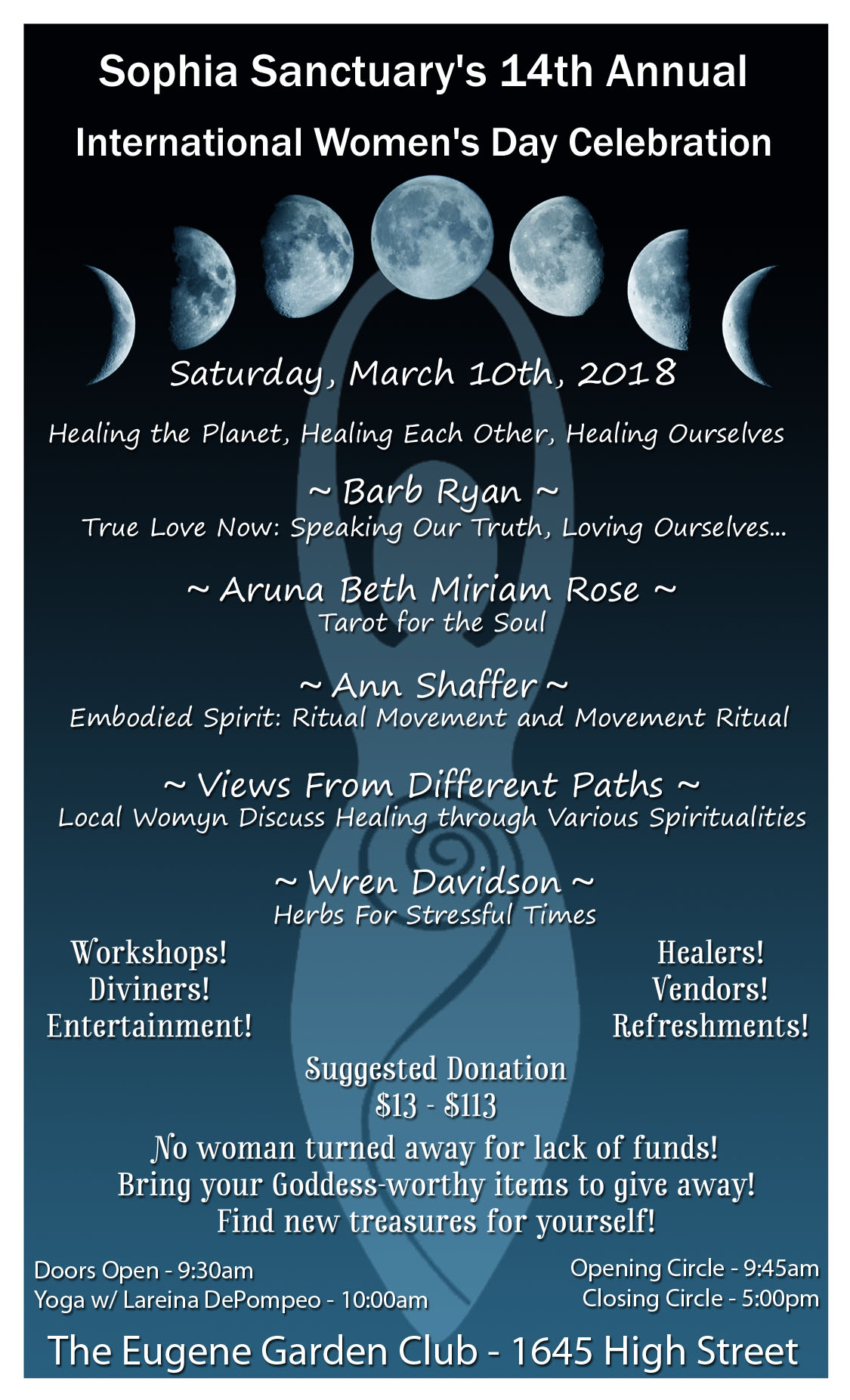 Schedule of Events (subject to change):
 9:45 – 10:00        Opening Ritual
10:00 – 10:45        Yoga with Lareina DePompeo
11:00 – 11:45        True Love Now: Speaking Our Truth, Loving Ourselves and Being in the Now with Barb Ryan
12:00 – 12:45        Healing the Planet, Healing Each Other, Healing Ourselves:  Views From Different Spiritual Paths
HEALING SESSION 1: 10:30 – 12:45
HEALING SESSION 2:  2:15 – 4:30
1:00 – 2:00        Finger Foods and Entertainment with:
SemiSweet – Karen Stingle and Jean Murphy,  a Capella duo
Rati Dangarembwa- Zimbabwean vocalist
Tribalation- Belly Dancing Troupe
2:15 – 3:00     Embodied Spirit: Ritual Movement and Movement Ritual with Ann Schaffer
3:15 – 4:00        Tarot for the Soul with Aruna Beth Miriam Rose
4:15 – 5:00        Herbs for Stressful Times with Wren Davidson
5:00                      Closing Ritual
 BRING GODDESS WORTHY ITEMS FOR OUR GIVEAWAY — ALL DAY
(Please keep in mind, this is a women only event)
The views expressed at any of these listed events do not necessarily represent the view of Sophia Sanctuary, the Matrix, or the members of this site. We provide listings for outside events of interest to womyn in the local area for information only. Members may submit events via the contact form on this site, but we do not guarantee that they will be listed on our events calendar. If you submit an event to us, please do so at least 2 weeks before the event start date. Thank you.