Sophia Sanctuary's International Women's Day Celebration 2018
March 10, 2018 @ 9:30 am

-

5:00 pm

$13 – $113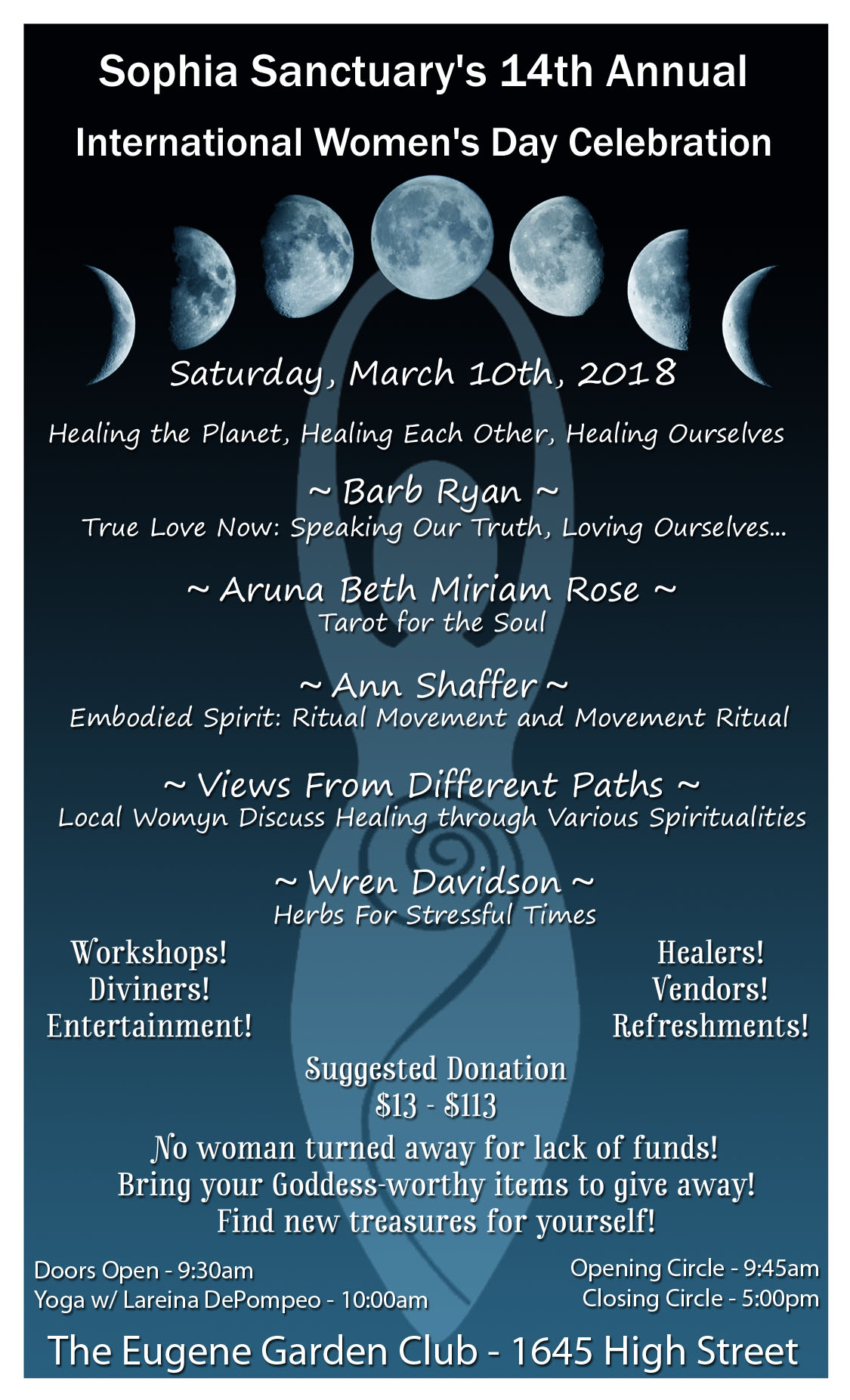 Schedule of Events (subject to change):
Doors open at 9:30. Opening circle at 9:45
Workshops
10:00   Yoga with Lareina Depompeo –bring a mat or not, come and join in.
11:00   True Love Now: Speaking Our Truth, Loving Ourselves, and Being in the Now –       with Barb Ryan.
2:15   Embodied Spirit: Ritual Movement and Movement Ritual with Ann Shaffer.  Ann has over 16 years of experience studying and performing belly dance, Middle Eastern folk dance, dances of the Roma, North African and West African dances, flamenco, hip hop, and modern dance, and is a Certified Teacher of Rachel Brice's Datura Style of belly dance.  Before moving to Oregon in 2011, she co-founded and led a Druidic group, Black Bear Grove, ADF, in southern Indiana, and loves to infuse movement into ritual and everyday life.
3:15    Tarot for the Soul with Aruna Beth Miriam Rose is an Intuitive Reader & Counselor in Eugene. She has devoted her life to the relief of suffering and the restoration of the Feminine within and without.
4:15   Herbs for Stressful Times with Wren Davidson. Wren has been a lifelong plant lover who delights in re-introducing her species to the green nations at our doorstep, who provide us oxygen, beauty, and nourishment.
Women's Panel:  Healing the Planet, Healing each other, Healing Ourselves-Views from Different Spiritual Paths – 12:00-12:45pm
Donella-Elizabeth Alston: A co-founding mother of Sophia Sanctuary Women's Temple, she is a Dianic Witch, a daughter of Oya and an ADF Druid-in-training.
Sherab Tenaj: My journey to Buddhism began in 2006 when I took Refuge in the Kagu lineage with Eugene Lama Tsong Tsing. For 10 years I have been on the board of Eugene's Interfaith Prayer Services which happens on the 11th of each month. I am part of Mingyur Rinpoche's Joy of Living Meditation Group. sherab@sevaplace.com
Isa Jennings:  My religion is love, and I am a fanatic.  Sufism        jennings.isa@gmail.com
Ruth Koenig: As a child, I remember the elder women in our church teaching us about Jesus:  his concern for the poor, his help for ill ones, his love of children and his stepping beyond the bounds of class and traditions. I have loved exploring other spiritual paths, opening to broader views, but I often return to the fundamental goodness of these elder women's messages.  Christianity  ruth2341@msn.com
Ruby Matthews is a Grandmother, Early Childhood Educator, Tarot Reader, Priestess, and Lover of the Mother. I was a founding member of Goddesses Women's Ritual Theater Collective and am a founding mother and active member of Sophia Sanctuary, a women's temple without walls.   Paganism    rubyisawitch@icloud.com
Aruna Beth Miriam Rose is on a multi-faceted, mystic spiritual path resonating with Jewish, Buddhist, Goddess, Interfaith, Tarot and Earth Centered paths. I specialize in Folk and Jewish Spiritual Healing music, devoting my life to the relief of suffering and the restoration of the Feminine within and without. I am a lay leader of local alternative Jewish Renewal services at Ad Olam—Synagogue without Walls.   Judaism         bethr@efn.org
Josefina Baez describes herself as "a performer-writer-educator-director whose work explores the present and its encounters with the past and future." She has been involved with multiple theater festivals and travels globally conducting Ay Ombe workshops and theater retreats. She often writes about her bi-lingual and bi-cultural experiences
Ana Maurine Lara is a Dominican American lesbian poet, novelist and black feminist scholar.
Jannes Martinez is a panelist at the Center for Latino/a and Latin American Studies (CLLAS) Symposium Justice Across Borders: Gender, Race, and Migration in the Americas
This promises to be an interesting and informative discussion!
Entertainment & Finger Foods: 1:00 – 2:00PM
Tribalation Belly Dance Troupe was formed in 2003 as a duet between Sabine and Najma performing "Improvisational Tribal Belly Dance". Now Troupe members include our Workshop teacher Ann Shaffer who dances and teaches in Eugene.
Ratie Dangarembwa, a Zimbabwean vocalist, was born in Bulawayo, Zimbabwe. Her mother says she could dance before she could walk and began singing in church at 7. Here in Eugene, she can often be seen both solo and with her new band "Inapplicable" at Saturday Market www.ratied.com
SemiSweet consists of Jean Murphy and Karen Stingle, longtime members of the acappella quartet Sweetgrass. They have performed on many types of occasions, usually informally, and will be delighted to be at IWD
 BRING GODDESS WORTHY ITEMS FOR OUR GIVEAWAY — ALL DAY
(Please keep in mind, this is a women only event)
The views expressed at any of these listed events do not necessarily represent the view of Sophia Sanctuary, the Matrix, or the members of this site. We provide listings for outside events of interest to womyn in the local area for information only. Members may submit events via the contact form on this site, but we do not guarantee that they will be listed on our events calendar. If you submit an event to us, please do so at least 2 weeks before the event start date. Thank you.