Evening of Upliftment
October 22, 2016 @ 6:45 pm

-

8:45 pm
This Saturday

will mark the one year anniversary of The Evening of Upliftment!
I hope you can join us for this extra special evening with Special Guest Musician Marty Chilla, at the Center for Spiritual Living

390 Vernal Street

Eugene

,

OR

97401

.
Evening of Upliftment                          Saturday,
October 22 @ 6:45 pm

–

8:45 pm
If you could ask The Universe one question what would it be? If you wonder what Love would have to say on a topic of concern or a worry or interest, bring your questions. Bring friends and family. It is always a warm, loving, and truly uplifting evening; great to share with loved ones and friends old and new.  I would love to have you join us for this special evening. Spiral toward joy in this evening of discovery and upliftment as the Spirit of Happiness transmits insight and wisdom through Barb with the theme of "What Would Love Do?"
Each person is invited to write down one comment, question or concern on a piece of paper, crumple it and place it in a singing bowl. As Barb plays the bowl the papers dance and she chooses one. Dropping back as an observer, The Spirit of Happiness speaks through her. The teachings that come forth are both deeply personal and universal. A question about where to move may turn into a teaching about discernment or finding one's path. A concern about violence may become a teaching about peace and love. A comment about family may be expressed as a teaching about love and compassion.
Join The Guidess of Happiness for this amazing and truly uplifting experience.
Suggested donation $15.00 -$25.00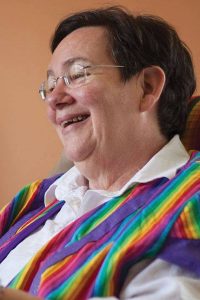 Blissings, Barb
The views expressed at any of these listed events do not necessarily represent the view of Sophia Sanctuary, the Matrix, or the members of this site. We provide listings for outside events of interest to womyn in the local area for information only. Members may submit events via the contact form on this site, but we do not guarantee that they will be listed on our events calendar. If you submit an event to us, please do so at least 2 weeks before the event start date. Thank you.